Hawayein Movie Story
Hawayein is road movie and is the story of a solo traveller Bhavesh Kumar who begins his journey from the Himalayan ranges to the backwaters of Kerala. The story is all about his journey and the people he meets on the way. The leading lady Ester Noronha joins him on his journey and gradually they fall in love. During his journey, he encounters thought-provoking people and the situations that motivates him to change as a person.
Somewhere along the way, he even begins to explore himself. So, Hawayein movie is a self-exploratory journey of a person who started retrospecting himself. The first look of the movie is showing the main leads in a bonfire under the beautiful Himalayas, snow-covered peaks and singing the title song. It shows the sweet love story too, under the moon-lit night , wrapped in the blanket of mist. The hero ( Bhavesh Kumar ) hits the roads to the Himalayas for self-discovery, and sometimes to escape the maddening world in the cities.
Bhavesh Kumar portrays one such solo traveler, who is on a journey from the Himalayan highlands to the picturesque backwaters of Kerala.
Earlier too, a few road and travel movies were an instant hit with the audience , be it Highway or Zindagi Na Milegi Dobara. But "Hawayein" movie is the first Bollywood movie on solo traveling. It is produced under the banner of "Ok Movies and Yogesh Vats is the director.
Hawayein Movie Cast

Kiran Kumar
Parikshat Sahni
Sheeba
Bhavesh Kumar
Bobby Vatsa
Ester Noronha
Hawayein Movie Credits
Directed by: Yogesh Vats
Produced by: Jogender Singh
Music by: Deepak Agrawal, Ripul Sharma, Sharat Sinha
Writing Credits: Yogesh Vats
Hawayein Movie Release Date
1st May 2020
Hawayein Movie Songs
Yet to be released check here
Hawayein Movie Poster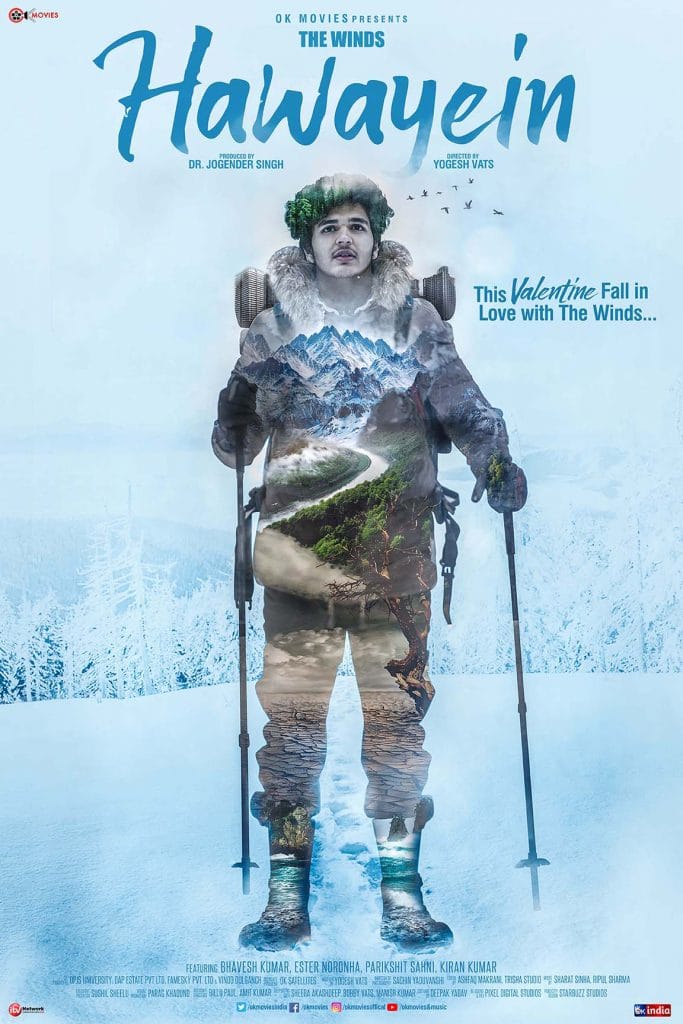 Hawayein movie (The Winds) is a Bollywood drama ,written and directed by Yogesh Vats and produced by Dr. Jogender Singh. Hawayein movie is a road movie , starring Bhavesh Kumar, Ester Noronha, Parikshit Sahni, and Kiran Kumar. The film is a journey of Bhavesh Kumar, a solo traveller, who starts travelling on a journey from the Himalayan highlands to the backwaters of Kerala. Ester Noronha joins Kumar in his journey and they fall in love. The film is set to release on 1 May 2020.
Please feel free to share your ideas with us click here