Aadhaar Movie Story
Aadhaar movie story is a comedy drama which featured Vineet Kumar in the main lead. Aadhaar movie story is the "celebration of India's contradictions" says the director of the movie Suman Ghosh. He simply titled his movie Aadhaar which is set in 2011, when enrollments began for the Unique Identification Authority of India's one-card-fits all project.
Produced by Manish Mundra under his banner Drishyam Films, the film stars Vineet Kumar Singh, Raghubir Yadav, Saurabh Shukla and Sanjay Mishra. Aadhar movie revolves around Pharsua, a resident of village Jamua, and his aadhaar (resident identification) card ID, issued by the Indian government. Villagers are suspicious that the government will collect their information and monitor them, so they show no interest in the new ID card despite the benefits.
Pharsua volunteers and he becomes the first person in the village to receive the new aadhaar card and is a star. But one day, the village priest predicts that the serial number on his ID card will soon cause the death of his wife, and Pharsua starts on a journey to save his wife. Now getting his ID number changed is of utmost importance to him, but it has become absolute number since it has been entered into the system.
There was an article in the New Yorker magazine about UIDAI. "The article was about what Aadhaar was trying to achieve," Ghosh recalled. "This was much before the controversies that arose over the last couple of years. One paragraph in the story said that a poor farmer had gone for his biometrics, but his fingerprints were not visible. I found that ironical." Aadhaar movie story is Ghosh's maiden hindi directorial venture. "The film doesn't aim to show whether the Aadhaar is good or bad," Ghosh clarified. "I know that people will ask this question. I have used the Aadhaar as a motif to explore India. I love this India of contradictions – it is both amazing and intriguing."
Ghosh confesses that he is "ambivalent" about the Aadhar project. "There is a debate, and I was surprised by how heated it got. But debates are a good thing." Ghosh's research included books on the Aadhaar project and a visit to Jharkhand for a few months in 2017. "I am a city-bred person who has grown up in Calcutta and Delhi, and I needed to imbibe what I wanted to say," Ghosh said. "I saw the ground reality of things I had read about – the sociological structures of the villages, the political beliefs. We often have set beliefs about what people in the village will be like. In many ways, they are more modern than us."
Aadhaar movie is shot in Jharkhand. It is a sincere effort by Suman Ghosh and a sincere and dedicated performance by Vineet Kumar.
Aadhaar movie is a comedy drama directed by Suman Ghosh. The movie stars Vineet Kumar Singh, who is the first one in his village to get his Aadhaar card made.
Aadhaar Movie Cast
Vineet Kumar
Sanjay Mishra
Saurabh Shukla
Raghubir Yadav
Alka Amin
Ekavali Khanna
Aadhaar Movie Poster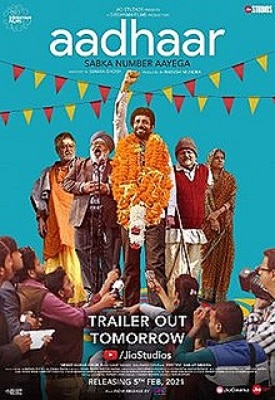 Aadhaar Movie Credits
Directed by : Suman Ghosh
Produced : Manish Mundra
Music Director: Shantanu Moitra
Writing Credits: Suman Ghosh/Amitosh Nagpal
Aadhaar Movie Release Date
05 February 2021
Aadhaar Movie Songs
Mati Sukhwinder Singh
Watch Here
Aadhaar Movie Short Description
Aadhaar movie is a comedy drama directed by Suman Ghosh. The movie stars Vineet Kumar Singh, who is the first one in his village to get his Aadhaar card made.
For further Up Coming movies Stay Tuned With us