Antim: The Final Truth Movie Story
'Antim: The Final Truth' is the official adaption of the hit Marathi film 'Mulshi Pattern'. It follows the story of Rahul (Aayush Sharma), a youngster from a small-town, who ends up becoming one of the most dreaded land mafias in Pune. But in his journey to the top, he ends up making many new enemies and breaking the law.
The movie opens with Rajveer Singh (Salman Khan narrating the story of a common farmer's life, where he is forced to sell his land and works as a farm laborer in his own land) One such story is of Rahulya (Aayush Sharma) whose father too had sold his land and is living as a watchman in his own land.
landlord beats up. Soon, his family shifts to Pune, where both the father-son duo work as porters in a vegetable market. One day, during extortion, Rahulya beats the goons and lands in jail. There, he meets Nanya (Upendra Limaye, a powerful gangster with the local M.L.A's support. Besides, he also falls in love with Manda (Mahima Makwana), a tea seller.
Soon, Rahulya is a prominent member in Nanya's gang. One day, Pitya (Jisshu Sengupta) and Daya (Nikitin Dheer) complain to Nanya that they failed to annex land owned by Rahulya's teacher (masterji). Rahulya both settles his own personal score and annexes the land by shooting him in front of his family. By now, Rahulya is completely disowned by his family and is thrown out of his home.
Though Manda is apprehensive of Rahul, she believes that he is innocent. One day, Nanya invites Rahulya to his birthday party. In a twist of tale, Rahulya murders him on the party night on the local MLA's word. S.I. Rajveer Singh, the policeman of the area, witnesses the murder and puts Rahulya behind bars after a physical brawl. 
Rahulya becomes the gangster of the town and everyone fear him. Though a rich man now, he feels lonely. During one of the land settlements, he comes across a happy family where the father is proud of his sons' achievements. Rahulya now has a change of heart. But the various rivaliries and gang-wars lead to his death.
As Rahulya's dead body is about to be cremated, everybody weeps and his father frantically laughs as he is reminded of Rahulya's words to smile at least once. As Singh leaves, he thinks that Rahulya needed only 6 feet of land despite owning 300 acres.
Pravin Tarde's story touches upon some important issues like land mafia, migration of rural population and their exploitation in urban areas, etc. Mahesh V Manjrekar, Abhijeet Deshpande and Siddarth Salvi's screenplay is decent in the first half but is unexciting in the second half. Mahesh V Manjrekar, Abhijeet Deshpande and Siddarth Salvi's dialogues are sharp and commercial, without going over the top.
Mahesh V Manjrekar's direction is fine. Salman Khan is not in top form but he manages to create impact in a few scenes. Aayush Sharma has improved a lot from his debut film, LOVEYATRI [2018]. Mahima Makwana makes a confident debut and is memorable in the scene where she blasts Aayush. Sachin Khedekar is dependable. Upendra Limaye leaves a huge mark in a small role.
Uday Tikekar is decent while Vijay Nikam is good in the cameo. Mahesh Manjrekar plays a role similar to the one he played in DABANGG [2010]. Hitesh Modak's music is forgettable. Ravi Basrur's background score has the massy vibe. Karan B Rawat's cinematography is passable. Vikram Dahiya's action is not gory and works well. Prashant R Rane's production design is realistic.
Ashley Rebello and Alvira Khan Agnihotri's costumes are real and yet appealing. Bunty Nagi's editing is neat. On the whole, ANTIM – THE FINAL TRUTH has an entertaining first half and the face-off between Salman Khan and Aayush Sharma keeps the interest going. But the unexciting second half diminishes the overall impact.
Antim: The Final Truth Movie Cast
Salman Khan as Inspector Rajveer Singh
Aayush Sharma as Rahul "Rahulya" Patil
Mahima Makwana as Manda (Rahul's love interest)
Mahesh Manjrekar as Satyavan "Satya" Singh
Rohit Haldikar as Ganya (Rahul's childhood friend)
Jisshu Sengupta as Pitya
Nikitin Dheer as Daya
Sachin Khedekar as Dattaram Patil (Rahul's father)
Chhaya Kadam as Dhurpi Patil (Rahul's mother)
Siddhi Dalvi as Seema (Rahul's sister)
Hani Yadav as Sunny
Prem Dharmadhikari as Sidhu/Siddharth
Upendra Limaye as Nanya
Waluscha de Sousa as Chingari
Sayaji Shinde as Head Constable Uday Mathur
Lankesh Bhardwaj as broker in vegetable market
Rohit Haldikar as Ganay
Uday Tikekar as Ramshiv Shinde
Sharad Ponkshe as MLA Ambir
Bharat Ganeshpure as Lawyer
Rohit Phalke as ArunVarun Dhawan (special appearance in the song "Vighnaharta")
Antim: The Final Truth Movie Poster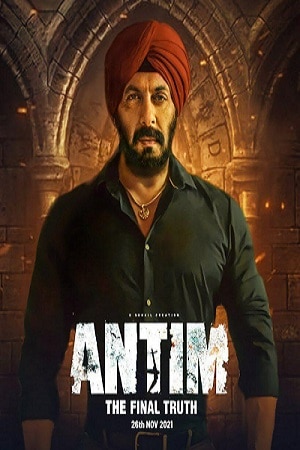 Antim: The Final Truth Movie Credits
Directed by : Mahesh Manjrekar
Written by : Mahesh Manjrekar | Abhijeet Deshpande | Siddharth Salvi    
Story by : Pravin Tarde
Based on : Mulshi Pattern by Pravin Tarde
Produced by : Salman Khan
Antim: The Final Truth Movie Review
The film Antim: The Final Truth Movie received mixed to positive reviews from various critics. Taran Adarsh gave the film a rating of 3.5/5 and wrote , " Power-packed ".
Times of India gave the film 3 out of 5 writing "With intense action and drama (a tad too much), 'Antim: The Final Truth' checks some of the boxes for mass entertainment as it highlights the issue of land grabbing by mafia dons, who are often backed by the politicians.
With the very first scene, director Mahesh Manjrekar sets the stage for a rebellious gangster story. The poor father Satya (Sachin Khedekar), was beaten up by the goons ( land mafioso ) when Rahulya rushes to save him. 
Gulf News gave the film 2.5 out of 5 writing "Director Mahesh Manjrekar as a drunk former small-time criminal is passable, but Khedekar's (Sharma's principled father) grief seems more genuine. Actress Mahima Makwana is effective in her part of a fierce woman some of the twists will remind you of an '80s Bollywood melodrama.
All emotions and violence in this film are exaggerated and heightened, but this is not an unbearable movie. If you are willing to tolerate this film's obvious need to be woke and loud, you may even enjoy the good vs evil drama". Komal Nahta of Film Information wrote, "Antim has entertainment value but it lacks novelty."
Khaleej Times gave the film 3 out of 5 writing "Antim is a well-made film with a generous dose of superbly shot action sequences offset by some zany dialogues that will make you smile in the midst of all the doom and gloom. Its strength lies in the fact it is a typical Salman Khan film that ends up being more than just another Salman Khan movie as well."
India Today gave the film 3 out of 5 writing "Antim is a small step in the right direction for Salman Khan and a big step for Aayush Sharma . In Future please stay tuned with us
Antim: The Final Truth Releasing Date
26 November 2021
Antim: The Final Truth Songs
Koi To Aayega To watch Click Here
Bhai Ka Birthday To Wach Click Here
Hone Laga To Watch Click Here
Antim: The Final Truth Movie Short Description
Antim: The Final Truth is an adaptation of Marathi film Mulshi Pattern starring Salman, Aayush Sharma & Mahima Makwana.