Attack Movie Story
Attack is a Bollywood action thriller film directed and co-written by Lakshya Raj Anand. The film is produced by John Abraham, Jayantilal Gada and Ajay Kapoor. It stars John Abraham in the leading role alongside Jacqueline Fernandez and Rakul Preet Singh. Based on hostage crisis, the storyline is inspired by true events. It is a story of rescue, race against time led by a lone ranger John Abraham. It is a fictional story but inspired by true incidents that brought a Nation on its knees. The movie portrays issue of Kashmiri Pandits and terrorism.
Principal photography began in January 2020.Production was put on hold in March 2020 due to Covid-19 pandemic. The film was originally scheduled for theatrical opening worldwide on 14 August 2020. However, it was delayed due to the shooting suspension. The film is scheduled for release on 13 August 2021.
John Abraham is currently on a roll. He has announced his next action-thriller film which will be titled, 'Attack'. Written and directed by debutant Lakshya Raj Anand, 'Attack' will be produced by Dheeraj Wadhawan and Ajay Kapoor's Kyta Productions and John's JA Entertainment. The producers had previously collaborated for John's 'Parmanu' and 'Romeo Akbar Walter' (RAW). The film, which is reportedly an intelligent and engaging story, is slated to go on floors in December this year.
Actor-producer John Abraham's love for the action genre is no secret. He has earlier too done many movies like that -Batla House, Parmanu, Satyamev Jayate etc. He will now produce and play the lead in the action thriller – Attack.
Excited that the film combines action with a purpose, John said that this is his favourite genre and bringing it to the screens two days before the Independence Day makes it even more special for him.
"Attack is a taut, action entertainer with a strong storyline…a genre I love! At JA Entertainment, it is our endeavour to push the envelope and produce films that entertain and have something significantly different to show to our increasingly discerning audience. Releasing the film in theatres this Independence Weekend, adds to my excitement,"
Speaking about the film, John had previously told Mumbai Mirror, "I'm walking on eggshells with 'Attack', asking myself if the audience will accept it, but backing my debutant director, Lakshya Raj Anand all the way. It's a risk, but I believe people are tired of the regular action films and I want to effect a change. I'm not afraid of failure. You are insecure only if you feel the pressure to succeed."
Dr.Jayantilal Gada of Pen Studios said, " We are delighted to release this fascinating action entertainer on the Independence Weekend. By planning to bring it to theatres on 13th August 2021, we are standing by film exhibitors and theatre owners who have survived a very difficult year during the Covid-19 crisis. John and his production house have conceived a phenomenal film and people will flock to watch it on the big screen!"
Ajay Kapoor said, "Collaborating with John and Jayanti Bhai on Attack is special. It brings an engaging and important story to audiences and will interest the younger generation. It's a pleasure to release the film on Independence Weekend when its story will resonate with people even more."
Attack Movie Cast
John Abraham as Nikhil Sahai
Jacqueline Fernandez as Amy Gupta
Athar Siddiqui
Babrak Akbari
Rakul Preet Singh as Devika Bisht
Nora Fatehi
Sonakshi Sinha
Attack Movie Poster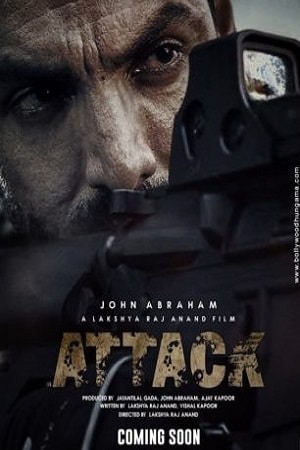 Attack Movie Credits
Directed by : Lakshya Raj Anand
Produced by : Jayantilal Gada |John Abraham |Ajay Kapoor
Music by : Gourov-Roshin |Tanishk Bagchi
Writing Credits : Lakshya Raj Anand
Attack Movie Releasing Date
21 January 2022
Attack Movie Review
Coming Soon…
Please feel free to share your ideas with us click here.
Attack Movie Songs
Coming Soon…Stay Tuned with us click here.
Attack Movie Short Description
Attack is a Bollywood action thriller, about hostage crisis, written-directed by Lakshya Raj Anand starring John Abraham, Rakul Preet and Jacqueline Fernandez.