Gehraiyaan Movie Story
Gehraiyaan is a 2022 Bollywood drama, helmed by Shakun Batra. The movie stars Deepika Padukone, Ananya Panday, and Siddhant Chaturvedi in the lead roles. Gehraiyaan revolves around infidelity and complex modern relationships. Alisha, a 30 years old yoga instructor, believes that her life is in shabbles both personally as well as professionally.
She is is working on an app and there are no investors. She also has to provide for her unemployed writer boyfriend, Karan . She does not wish to end up like her mom so she also suffers from anxiety . Alisha's cousin, Tia, is newly engaged to Zain and invites the couple to their Alibaug beach house. Zain and Alisha quickly bond due to their traumatic past and started a relationship.
As they grew closer, Zain got his business to invest in Alisha's app .He later reveals about his tormenting past as a child. His father was abusive in nature. He left for America, leaving his mom behind , which he of course doesn't feel guilty about. Zain's relation with Tia was also based on mutual benefits. Zain was having investment from Tia and her father and hence couldn't leave her.
At Zain and Tia's anniversary party, Alisha reveals to Zain that she is pregnant. Feeling anxious, Alisha reaches for a Valium but Zain takes them away from her and promises her that they will deal with the pregnancy together. Zain eventually convinces Alisha to have an abortion. Meanwhile, Zain's company is placed under investigation when one of his investors is caught for money laundering.
Zain's life turned upside down as now he cannot leave Tia as he needs the money. Whereas Alisha was compelling him to tell Tia, the truth. Meanwhile, Alisha's yoga studio is sealed by officers and she confronted Zain at his office. Tia too was after Zain's life as she too thought him having an affair.
With all this confusion, Zain got too stressed and called Alisha to his yacht for a together time and there is the climax . He thought of murdering Alisha and in a jiff, accidently fell into the ocean and died. Few more turths unfolds and finally Tia never came to know about the truth of Alisha and Zain , having an affair .
Two years later, Alisha has a much better relationship with her father and tells him to move to Mumbai to be with her. Alisha attends Karan's engagement party where she meets Tia. Alisha apologised to Tia for not keeping in touch. Tia wonders if revealing the truth to Alisha was right but Alisha reassured her it was the right thing to do. Alisha and Tia agreed to start again and mend their relationship.
Gehraiyaan Movie Cast
Deepika Padukone as Alisha "Al" Khanna
Ananya Anand as Young Alisha Khanna
Siddhant Chaturvedi as Zain Oberoi
Ananya Panday as Tia "Tee" Khanna
Arzoo as Young Tia Khanna
Dhairya Karwa as Karan Arora
Naseeruddin Shah as Vinod Khanna
Imran Chappar as Young Vinod Khanna
Rajat Kapoor as Jitesh
Vihaan Chaudhary as Bejoy Sen (Banker)
Pavleen Gujral as Sonali Khanna
Deepak Kripalani as Raman Arora
Kanika Dang as Neetu Arora
Natasha Rastogi as Tia's mother
• Anup Sharma as Tia's father
• Shataf Figar as Ranjeet
• Yamini Joshi as Sejal
Gehraiyaan Movie Poster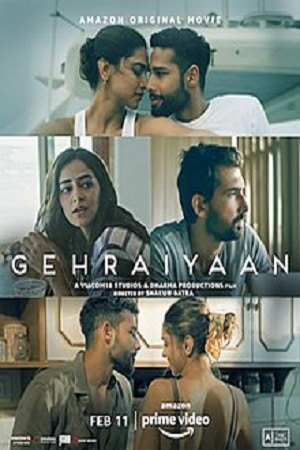 Gehraiyaan Movie Credits
Directed by Shakun Batra
Written by Shakun Batra | Ayesha Devitre | Sumit Roy | Yash Sahai
Produced by Hiroo Yash Johar | Karan Johar | Apoorva Mehta |Shakun Batra
Music by Kabeer Kathpalia (OAFF) | Savera Mehta
Gehraiyaan Movie Review
The film Gehraiyaan received mixed to positive reviews from critics praising the performances of Padukone and Chaturvedi, direction, visuals, music and score but criticizing the pace and predictability. Deepika Padukone's performance was critically acclaimed and praised by audience as well.
Sanjana Jadhav of Pinkvilla gave the film a rating of 4 out of 5 and wrote "Shakun Batra's Gehraiyaan is a deep dive into individual and family's past choices, relationships and why we do, what we do. The director has successfully struck a balance of intimacy, shock, grief and above all love".
Renuka Vyavahare of The Times Of India gave the film 3.5 out of 5 and wrote "Shakun Batra tries to decode complex human behaviour and its consequences, through a story that's tough to narrate".
Roktim Rajpal of Deccan Herald gave the film 3.5 out of 5 and wrote "A film about infidelity can work only if the audience is able to relate with the characters at one level or another. Take Kabhi Alvida Naa Kehna for instance. The film worked as the writers were able to highlight the challenges faced by the protagonist in their personal lives quite well. This is exactly where Gehraiyaan delivers the goods".
Anuj Kumar of The Hindu wrote "Shakun Batra's relationship drama painstakingly dissects the lives of a set of upwardly mobile young people who love to surf in more ways than one".
Shubhra Gupta of The Indian Express gave the film 2 out of 5 and wrote "The foursome of Deepika Padukone, Ananya Panday, Siddhant Chaturvedi and Dhairya Karwa should have been a throbbing hot mess, but the film doesn't go deep enough".
Saibal Chatterjee of NDTV gave the film 2 out of 5 and wrote "The film is about youthful, adventurous love, but it is utterly devoid of humour and zing. When it tries to lighten up, it falls flat".
Shantanu Ray Chaudhari of The Free Press Journal gave the film 1 out of 5 and wrote "The writing veers between the trite and the ridiculous."
Phuong Le from The Guardian rated the film 3 out of 5 saying "While the lurid twists and turns are enjoyable in a 90s erotic thriller kind of way, the sudden shift towards suspense hampers Padukone's performance. And what a performance it is!"
The movie is about the complexities of relationships. The movie lacks the depth sometimes but the acting of the leading lady makes it worth a watch. We see her go through a lot of angst, but it is hard to feel for her simply because we did not see any depth in it.
Tia's character is easily manipulated types who is naïve and believes in anything. Zain's character has shades of grey but we cannot call him a villain as he seems to be a puppet in the hands of fate. Nothing he does , goes well. He is manipulating and shows no emotions to the feelings that his lady loves were showing to him.
The ending was truly shocking as to see that Zain, who Alisha had started seeing as her anchor, turned into the person who wanted to take her life because now she was an obstacle in his life. Gradually, she reconciled with her father too after knowing the truth. This is how we all behave n do in life as well. This reminds us of something we had heard once before: you can't shake off the baggage; you can only learn to carry it so that it does not seem as heavy over time.
To more information stay tuned with us
Gehraiyaan Movie Release Date
11 Feburary 2022
Gehraiyaan Movie Songs
Doobey Song To Watch Click
Gehraiyaan Song To Watch Click
Beqaaboo Song To Wach Click
Gehraiyaan Movie Short Description
Gehraiyaan is a romantic drama movie directed by Shakun Batra  starring Deepika & Siddhant Chaturvedi,   premiered on 11 Feb 2022 on Amazon Prime.