Heropanti 2 Movie Story
Heropanti 2 movie is a Bollywood action-drama, helmed by Ahmed Khan. It is a sequel to 2014's Heropanti ( actor's debut movie ) which is the re-make of Telugu movie Parugu, a blockbuster movie in the south. Now , in 2021, Ahmed Khan is again ready with Tiger Shroff to present its sequel Heropanti 2.
Heropanti 2 movie is intricately written by Bhaskar and he has presented the hero of the movie as larger than life. The story is about a guy who helps people at night. He is always present everywhere whether there is a robbery , kidnapping or someone in danger.
He is the first one to reach like a messiah. The Indian government finds out about this and sends him to Russia where he has the mission of killing Russian troops at night. The things turned drastically when he is perceived as the leader of the Russian troops .After that, in the middle of the dark night, he beats his enemies and once again proof his patriotism for the country.
Tiger Shroff has established himself as the action hero since his debut movie Heropanti. His movies are earning well at the ticket windows, they are also being films turned into franchises which demonstrates the faith the filmmakers have for the actor.
The posters of Heropanti 2 are showing Tiger Shroff in a black suit and a gun in his hand. The tag line of the film says The World Wants Him Dead. The poster has a very John Wick feel to it and we expect this to be a stylish action entertainer. While sharing this poster, Tiger captioned the first look saying, "This one is so special to me. Blessed and grateful to be carrying forward another franchise with my mentor sajid sir forward.
Heropanti2 firstbaby Both the posters show Tiger in an action mode; he is armed and dangerous. One poster also has several guns pointed at him. The first look of Tiger Shroff's Heropanti 2, has prompted several fans to wonder if it will be the (unofficial) remake of Keanu Reeves' popular John Wick movie series. Both the posters look similar, as well as the messaging, that pits Tiger Shroff's character against an entire army of villains who want him dead. Filmmaker Sajid Nadiadwala's production company announced that they were turning Heropanti into a franchise, and the second film in the series will be helmed by director-choreographer Ahmed Khan. Heropanti 2 movie is going to be released on 16 July 2021.
Heropanti 2 Movie Cast
Tiger Shroff
Kriti Sanon
Tara Sutaria
Prakash Raj
Rakesh Krushna Joshi
Heropanti 2 Movie Poster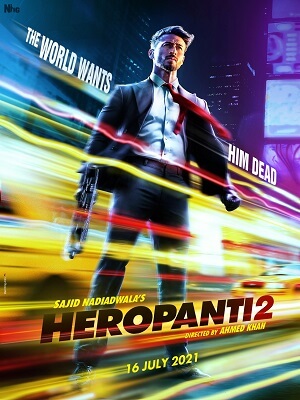 Heropanti 2 Movie Credits
Directed by : Ahmed Khan
Produced by : Nadiadwala Grandson Entertainment
Music Director: Sajid-Wajid
Writing Credits: Bhaskar
Heropanti 2 Movie Release Date
29 April 2022
Heropanti 2 Movie Review
Coming Soon…Please feel free to share your ideas with us click here.
Heropanti 2 Movie Songs
Beetein Yaadon ki
Want to see the song click here
Woh Chali Bewafa Chali
Want to see the song click here
Heropanti 2 Movie Short Description
Heropanti 2 , directed by Ahmed Khan is the romantic- action thriller and the sequel to Heropanti, starring Tiger Shroff , Kriti Sanon and Tara Sutaria.