Mimi Movie Story
Mimi movie releasing on Netflix is a comedy-drama film directed by Laxman Utekar, written by Rohan Shankar and produced by Dinesh Vijan under his banner Maddock Films.  The movie is said to be loosely based on the Marathi film Mala Aai Vhhaychy! (2011).
It stars Kriti Sanon as a surrogate mother alongside Pankaj Tripathi, Sai Tamhankar, Manoj Pahwa and Supriya Pathak. Principal photography is done in Churu in October 2019  but ,due to COVID-19 pandemic caused a major postponement in its release date. The film will now premiere on 30 July 2021 on JioCinema and Netflix.
The trailer of Mimi released on social media on Tuesday and it started trending big time. In the film, Pankaj Tripathi's character persuades Kriti Sanon ( Mimi )to be a surrogate mother for an American couple. She agrees after finding out that she will not be involved in conceiving the baby and that she will paid ₹20 lakh for carrying it.
Mimi is concerned about how she will explain the baby bump to her parents, but Sai Tamhankar's character tells her that she can stay with her. Sai's character introduces Kriti's character as 'Chand' and Pankaj's character as her husband Naseeruddin, leading to much hilarious situations.
However, Mimi's world turns upside down when she is told that the American couple no longer wants the child and she is asked to get an abortion. She returns home and while being interrogated by her parents about the father of her child, panics and points at Pankaj's character. The film touches upon the challenges of surrogacy and how society looks at it.
The movie showcases Kriti Sanon's journey from being an ambitious dancer in a small town to discovering about surrogacy and embracing motherhood whole-heartedly. Apart from Kriti, it is Pankaj Tripathi who steals the show. Actor Pankaj Tripathi, who has lifted several films with his mere presence, continues to pick roles that are out-of-the-box.  The trailer showcases the roller-coaster ride of events. There is one Namaz scene in the trailer .
In the said scene, Tripathi, who is pretending to be a Muslim man to keep Mimi (played by Kriti) company as she becomes a surrogate mother, is asked as to how many times he offers namaz during a day. To which, he instantly replies, "10 martaba." When he is told that namaz is to be offered only five times a day, pat comes a reply that he answered for two days, and not one. 
Simply put, the trailer is making it hard for us to wait for the film's release.Mimi will release on Netflix on July 30.
Kriti Sanon, sharing the film's trailer wrote: "Mimi expected everything, except for this unexpected journey! Here is my Mimi for you! Watch the glimpse of her unexpected story with your family. Sharing the teaser, Kriti wrote on Instagram, "It's nothing like what you're expecting! Delivering the #Mimi trailer on 13th JULY, #Tuesday! Beyondddd Thrilled!! Stay tuned! #MimiTrailer13July (sic)."
Mimi tells an unconventional story about a surrogate mother. Kriti Sanon said, "I am very excited. It's based on the subject of surrogacy but actually it's the story of this young girl who wants to be an actor. She's a dancer in Mandawa and she ends up being a surrogate for a couple.
Then, the things that follow change her life and also change her as a person." She added: "It's a lot on me. It's around this character Mimi. It is very entertaining, a beautiful script. One of the most beautiful scripts I have read. You will have a lot of humour and situational humour. At the same time, there are a lot of characters you will take back home."
Kriti Sanon reunites with Laxman Utekar for Mimi – the filmmaker previously directed her in Luka Chhupi, co-starring Kartik Aaryan.
Mimi is the latest film in the long list of collaborations between Dinesh and Kriti that includes Raabta, Luka Chuppi and Arjun Patiala. Kriti also made a special appearance in Dinesh's successful 2019 horror comedy Stree. Mimi also reunites Kriti Sanon and Pankaj Tripathi after Luka Chuppi and Bareilly Ki Barfi.
Laxman Utekar has written Mimi's story and screenplay along with Rohan Shankar, who has also penned the dialogues. Mimi's plotline is reportedly centered around surrogacy. Earlier, while speaking with PTI, Sanon clarified that Mimi is not going to be a preachy movie on the subject.
She said, "It's not preachy or serious. It's not like you are going to watch a film on surrogacy and it's going to be a documentary film. It's a very entertaining film, filled with humour, and a lot of ups and downs. There's a beautiful graph of the woman I am playing, Mimi, where she wants to be an actress." original film also won a National Award for Best Feature Film in Marathi in the year 2011.
Mimi Movie Cast
Kriti Sanon as Mimi
Pankaj Tripathi as Bhanu
Sai Tamhankar
Manoj Pahwa as Mimi's father
Supriya Pathak as Mimi's mother
Evelyn Edwards
Aidan Whytock
Jaya Bhattacharya as Doctor
Amardeep Jha
Mimi Movie Poster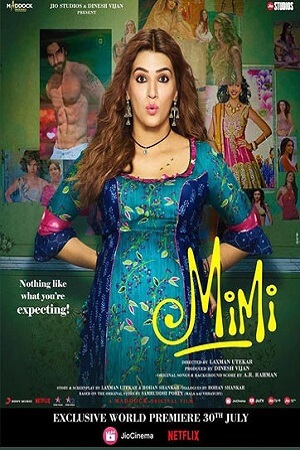 Mimi Movie Credits
Directed by : Laxman Utekar
Written by : Dialogues: Rohan Shankar
Screenplay by : Laxman Utekar | Rohan Shankar
Music by : A. R. Rahman
Mimi Movie Release Date
30 July 2021
Mimi Movie Review
Coming Soon Stay tuned with us
Mimi Movie Songs
Coming Soon Stay tuned with us
Mimi Movie Short Description
Mimi Movie is a comedy-drama film directed by Laxman Utekar,  based on the Marathi film Mala Aai Vhhaychy! (2011) starring Kriti Sanon and Pankaj Tripathi.